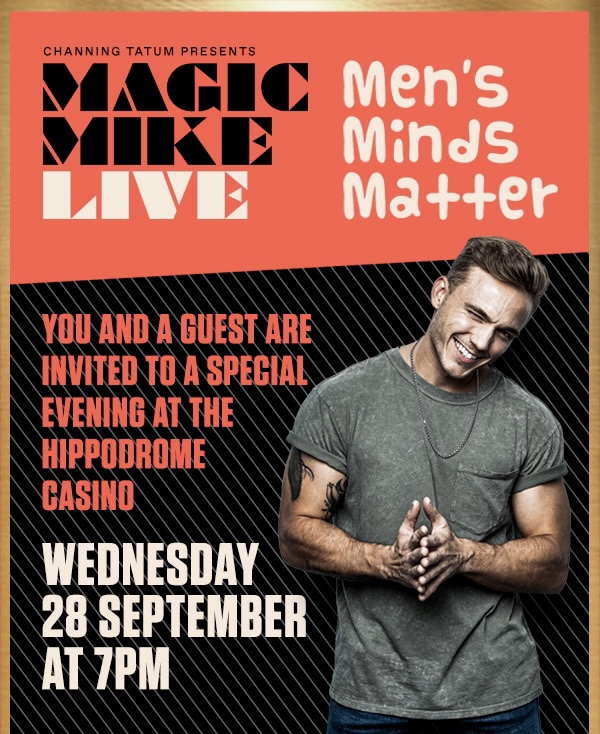 MEN'S MINDS MATTER & MAGIC MIKE LIVE PARTNERSHIP
Channing Tatum and all the cast and crew of MAGIC MIKE LIVE are partnering with innovative charity MEN'S MINDS MATTER over the next 12 months.
Conceived and directed by Channing Tatum, MAGIC MIKE LIVE is an unforgettably fun night of sizzling, 360-degree entertainment based on the hit movies. The show is a west end production and is carefully curated to an audience who want to have fun, dance and be entertained by talented dancers and performers. The cast and crew wanted to support Men's Minds Matter as they strongly believe in our cause and our ambitions.
Over the coming year we will be working in partnership with Channing Tatum and the Magic Mike Live crew to bring awareness to male suicide and to generate support to help progress our work.
MEN'S MINDS MATTER is a not-for-profit organisation that specialises in developing psychological interventions for people at risk of suicide. Our model of Psychological Entrapment and Suicidal Crises is the first of its kind and brings together psychological science, clinical and lived experience of suicide. The model underpins and guides everything we do and truly sets them apart from other mental health charities.
MEN'S MINDS MATTER is run by Nigel Sanderson (suicide intervention specialist, lived experience expert and MMM director) and Dr Luke Sullivan (suicide intervention specialist, clinical psychologist and MMM director). Their main aim is to develop an interactive, live, web-based application that will bring their intervention to as many people as possible through their digital platforms. This is the first intervention of its kind and they believe it has the potential to save many lives.
If you or someone you know is affected by these issues, MEN'S MINDS MATTER are here to help.